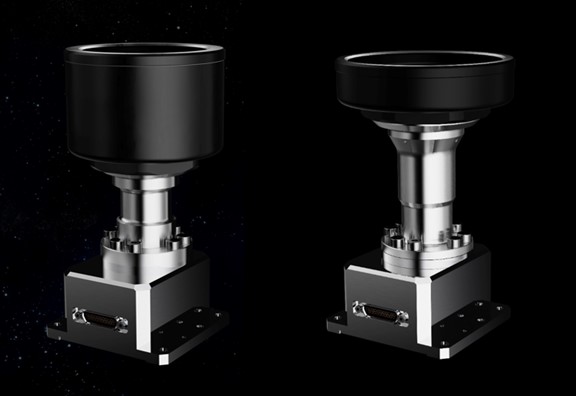 "November 08, 2023 – Sodern is pleased to announce the launch of the Auricam range of compact space cameras suitable for all orbits (LEO, MEO, GEO), at reduced cost and deliverable within a few weeks of order. The versatile Auricam cameras have been designed to cover a wide range of missions, such as space surveillance and protection, ensuring the continuity and security of operations, in-orbit or rendezvous services, navigation and scientific exploration. The Auricam range includes two launch models offering two fields of view: Auricam D35 and Auricam D80.
Versatility and performance
Auricam draws on over fifty years of Sodern experience in space equipment development. Most recently, Sodern developed the navigation cameras for the European JUICE (NASA) and Earth Return Orbiter (NASA/ESA) missions. The latter, used for the mission to return Martian samples to Earth, is capable of detecting a twenty-centimeter capsule close to the Martian atmosphere at a distance of over 3,000 km.
Auricam cameras benefit from Sodern's optoelectronic expertise and extensive resources. The Auricam range thus achieves a high level of performance in detecting debris, small satellites or rocket bodies up to magnitudes 6 to 8, while delivering excellent image quality thanks to a 4-million-pixel CMOS sensor.
Auricam cameras are available in two models to meet all operational needs.
Auricam D35 provides excellent detection and imaging in a 35° diagonal field of view.
Auricam D80 offers a wider 80° diagonal field of view for applications requiring greater coverage, such as in-orbit or rendezvous services.
A representative digital twin model will complete the offer to facilitate integration by satellite prime contractors. This model is based on a simulation tool developed by Sodern, and validated in flight for more than 10 years now on star tracker and camera projects.
Optimized design and industrial engineering
The design of Auricam cameras has been specially developed to offer reduced size and weight, without compromising on robustness and performance. While being resistant to radiative environments, the mass of the Auricam D35 is only 420g for a volume of 71 x 59 x 140 mm3; and 450g and a volume of 71 x 59 x 150 mm3 for the D80. Power consumption is also optimized, at less than 2 watts.
Auricam cameras are equipped with standardized, off-the-shelf, tried-and-tested components to ensure optimum reliability combined with rapid delivery. Thus, our highly industrialized manufacturing process guarantees delivery within three to four months, depending on the options chosen.
"When in 2019, with Auriga™, we launched the first space star tracker designed for high-volume production, we were betting on the fact that space would become a major issue requiring ever shorter time-to-market in a context of increased competitiveness.
4 years later, strengthened by the confirmation of what is today a reality: we are launching a range of high-performance cameras that builds on the foundations of what has made Auriga™ so successful; the same mechanical interfaces, the same communication interfaces and, above all, the same reliability and off-the-shelf availability.
Our mission is to enable our customers to succeed in their missions, by providing high-quality, reliable equipment in the shortest possible time-frame," says Fabien Robert, Vice-President Development & Sales.
The Auricam range is qualified for a lifetime of 15 years in geostationary orbit.
The development of this camera has benefited from support from CNES as part of the Investment in the Future Plan (PIA) launched by the French government."